Wonder Women! The Untold Story of American Superheroines
Directed by
Kristy Guevara-Flanagan
Music by
Jimmy Lavalle
Released
March 10, 2012
Duration
1hr, 19min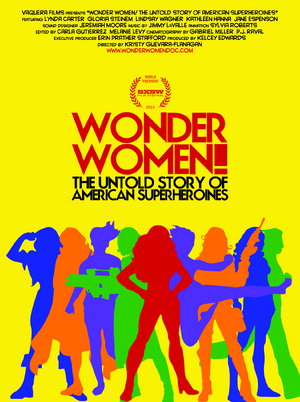 Wonder Women! The Untold Story of American Superheroines is a documentary primarily about Wonder Woman, as well as other female superheroes. It was successfully Kickstarted as The History of the Universe as Told by Wonder Woman in February and March of 2011 with 409 backers pledging support.[1]
Other franchises referenced include The Bionic Woman, Buffy the Vampire Slayer, Coffy, Terminator (Sarah Connor), Alien (Ellen Ripley), and Xena: Warrior Princess, amongst others.
Synopsis
synopsis needed — click to edit
Cast
The documentary consists of a series of interviews with several people who have been associated with Wonder Woman during their careers, as well as fans. They include Andy Mangels, Carmela Lane, Danny Fingeroth, Gail Simone, Gloria Steinem, Jane Espenson, Jehmu Greene, Jennifer K. Stuller, Judith Jack Halberstam, Kathleen Hanna, Kathleen Noble, Katie Pineda, Katy Gilpatric, L.S. Kim, Lindsay Wagner, Lynda Carter, Mike Madrid, Ruby Blondell, Sara Crosby, Shelby Knox, Trina Robbins, and Yvonne Tasker.

Videos
External links
Sources
Community content is available under
CC-BY-SA
unless otherwise noted.