Mythos
Written by:
Carol Lay
Published:
December 30, 2002
Length:
304 pages
ISBN:
0739433709
Wonder Woman: Mythos is a novel featuring Wonder Woman.
Official Description
Mysterious events in the Bermuda Triangle propel Wonder Woman on a desperate search for the truth behind the disappearance of a diver near Themyscira, home of the legendary Amazons. But her discovery of a mirror island - one populated entirely by men - sets events in motion that ultimately cause the Justice League to come into conflict with a figure from Wonder Woman's own mythological past. But is she powerful enough to save them?
Audio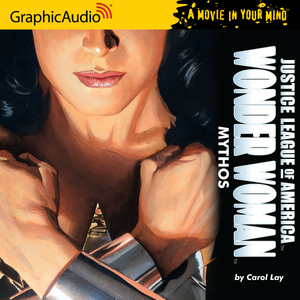 An audio adaptation was produced by GraphicAudio in 2009 featuring a full cast of voice actors, music, and sound effects.
Colleen Delany as Wonder Woman
Eric Messner as Green Lantern
James Konicek as Superman
Richard Rohan as Batman
Michael Glenn as The Flash
Thomas Penny as Martian Manhunter
Kate Foster as Anna Linstadt
Tim Getman as Henry Linstadt
Lily Beacon as Hippolyta
Scott McCormick as Ares
Corrie James as Artemis
Nanette Savard as Lois Lane
Jonathan Watkins as Jor-El
Jason Stiles as Peleus
Sherri Simpson as Hermione
M.B Van Dorn as Chloe
Kelsey Grouge as Oracle
Susan Lynskey as Camilla
Cate Torre as Polyxena
Michael John Casey as Creophylus
with Barbara Pinolini, Mort Shelby, and Bobby Aselford
Directed by Richard Rohan
Adapted by Dan Sondak
Music by Dan Sondak
Produced by Richard Rohan and Duane Beeman
Executive Producers: Anji Cornette
Community content is available under
CC-BY-SA
unless otherwise noted.