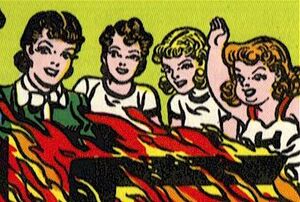 The Holliday Girls are a band of sorority members who attend Holliday College. Led by Etta Candy, they often aid Wonder Woman in her adventures.
Members
Betty
Brenda
Dorothy Lord
Etta Candy
Eve Brown
Faith Alden
Gay
Gell Osey
Glamora Treat
Hester
Janet Foster
Jean Townsend
Lillie
Lita Little
Lorrie
Marcia
Marcy Young
Mary Lane
Patsy Peters
Selina
Bobbie Strong
Ruth Rorick
Susan Tardee
Tina Toy
Thelma Tall
Tress Akter
Virginia True
Millie and Tillie Heyday
Community content is available under
CC-BY-SA
unless otherwise noted.