"Wonder Woman Meets Baroness Von Gunther"
Season 1, Episode 1
Air date
April 21, 1976
Written by
Margaret Armen
Director
Barry Crane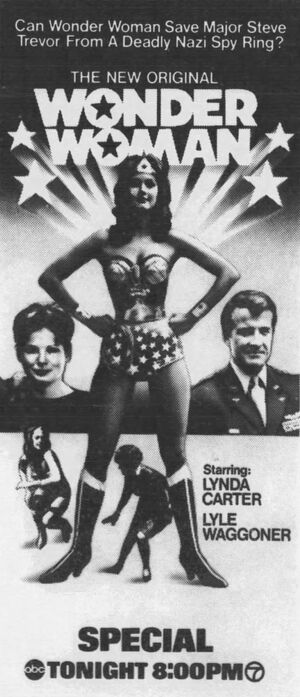 Steve is being framed for several incidents of sabotage. He suspects Baroness Paula Von Gunther (Christine Belford) an imprisoned Nazi spy. The warden's son Tommy, an avid fan of detective fiction, assists Wonder Woman.
Cast
Christine Belford as Baroness Von Gunther
Edmund Gilbert as Warden
Ed Griffith as Hanson
Christian Juttner as Tommy
Bradford Dillman as Arthur Deal III
Jude Farese as Guard #1
Cletus Young as Guard #2
Ruth Warshawsky as Woman
John Brandon as Sergeant Stransky
Notes
This episode is based on the comic book story, "Wonder Woman Versus the Prison Spy Ring" originally published (sans title) in Wonder Woman #1 (July 1942). In the story, Colonel Darnell informs Steve Trevor that an army transport ship was sunk by a German U-Boat. Believing the Nazis must have had inside information, Darnell orders Steve to interrogate the former head of the Gestapo system in America – Baroness Paula Von Gunther – now serving time in a federal penitentiary thanks to Wonder Woman.
Community content is available under
CC-BY-SA
unless otherwise noted.