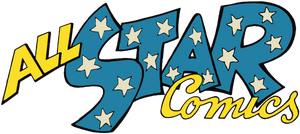 All Star Comics is a comic book title published by DC Comics beginning in 1940 featuring the Justice Society of America. The title is notable for introducing Wonder Woman, making her first appearance in issue #8.
Wonder Woman is absent from issues 9 and 10, but features as a "guest star in a national emergency" for #11. In the following issue, Hawkman tells the other (all male) members of the Justice Society that Wonder Woman will serve as their secretary, staying behind while "the boys" respond to acts of conflict. In some of the issues that immediately follow, Wonder Woman drives the narrative for that issue's story, but she's mostly relegated to cameo appearances for the remainder of the title's run. One notable exception is in All Star Comics #15 where Wonder Woman rounds up her team mates' girlfriends and dresses them as gender-bent versions of the heroes to solve a case being handled by the Justice Society.
Issues Featuring Wonder Woman
Links
Community content is available under
CC-BY-SA
unless otherwise noted.